Technical, IE News
Hosting Drupal and WordPress sites on Pantheon
IE Digital have recently moved most of our client websites onto Pantheon's hosting environment, which allows for faster sites, efficient security updates, quicker bug fixing, instant scaling and much more besides.
---
---
At IE Digital, we recently migrated the vast majority of our Drupal and WordPress websites onto Pantheon—much to the delight of our development and support teams.
So why did we move? And what difference does it make where we run our client sites?
Well, whenever we needed to fix a bug or investigate a data problem on a client's website, we used to have three options:
Risk making changes on the live server

Do it in a staging environment that may not be fully up to date

Create a whole new staging environment for the changes to take place
Each of these options was less than ideal for us and our clients, either because of the inherent risk involved or the time, it would take us to prepare stuff before we could even get started.
Seamless implementation to live
With Pantheon, however, Multidev allows our team to make a separate copy of the live site in just a couple of minutes, which our devs are safe to play with and break without affecting our clients or their users. That's vital when a university relies on their site to drive student applications or a health charity needs to provide advice on contraception and STIs, 24 hours a day, seven days a week.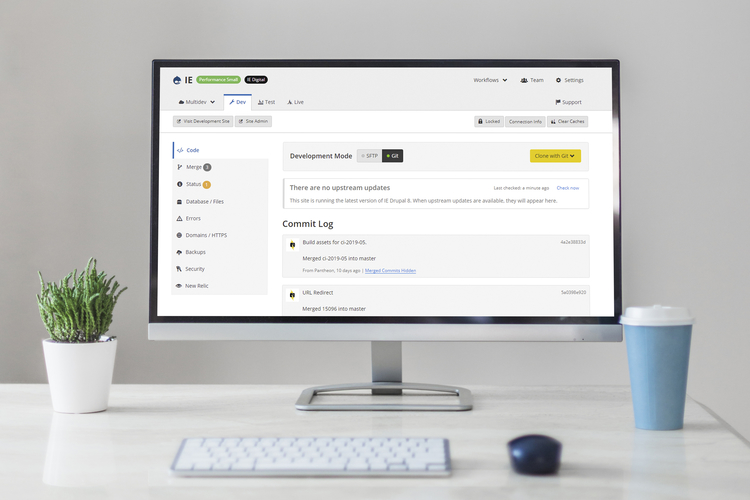 With Multidev, we can have multiple copies of the same site, with different people working on them, if needed. Then once the code change is complete, there's a seamless browser-based process to implement it on the live site. Pantheon ensures that the whole process is quick, dynamic and low risk. We can see exactly what copies we have on the platform, hold them securely for as long as they're needed, and delete them without a trace once we're finished.
When we need to make across-the board updates to our websites, such as a Drupal 8 security update, Pantheon makes it super efficient for our development team. The custom upstreams and automation allows us to throw code around easily, update all our sites in one place, and do it using a single command. Within an hour or two, we can have 25 websites updated and ready to test, whereas previously it could have taken us at least that long per website.
Pantheon also automates HTTPS (SSL) renewals using Let's Encrypt, which saves us loads of time and ensures our clients' users are always protected. Previously, we had to use a manual process to remember to order or renew certificates, then upload them, to ensure they didn't expire. Despite our best-laid plans, this manual approach was always subject to human error, so we couldn't guarantee to clients that it would go without a hitch. With Pantheon, they renew automatically, so it's quick, reliable and disruption-free. 
Future-proof and scalable for growing websites
On all our previous hosting platforms, we lacked the flexibility to scale up quickly when we needed to, be it to accommodate more websites or higher user volumes for a particular site. Before, we'd have had to take a site offline in order to move it to a bigger server, which was a big operation. Now, Pantheon comfortably supports even our biggest Drupal sites—such as Sexwise.org.uk with up to 160k unique users per month—no problem.
The benefits aren't limited to support for existing websites either. Setting up a hosting environment for a new client site is equally straightforward, and everything can be ready to go in a matter of minutes. What we love the most is just how efficient it is, massively speeding up our workflow.
Pantheon was built for Drupal and Wordpress, so that was another big selling point for us as Drupal specialists. There are additional tools and plugins available within Pantheon. We can use New Relic to investigate and improve any performance issues on a site—or plug straight into Solr to deliver improved search experience.
Excellent customer support
Pantheon provides us with 24x7x365 support for all our sites, and whatever question we might throw at their customer service team they are always knowledgeable, quick to respond, and jolly lovely people to boot.
European Region Data Residency
The majority of our charity, health, and education clients are based in the UK, and subject to strict European data protection regulations under General Data Protection Regulation (GDPR). Pantheon meets the needs of GDPR, and their recent announcement of data centre locations in Europe will allow us to achieve the data residency needs of our clients. Our clients will also benefit from the awesome performance gains Pantheon offers, no matter where they are!
In a nutshell, we moved to Pantheon primarily because it was more cost effective and flexible, but it's proved to be so much more. Our developers love it, and it's enabled us to be much more productive for clients including Legal Choices, Sexwise, LABC and the University College of Osteopathy.
To fix a bug we can quickly and easily take a copy of the site, and our developers can safely play around, test the copy site and break it if they need to, with no impact on our clients or their users. Then it's a really seamless process to implement it on the live site – it's low-risk, dynamic and fast.

James Marsh
Head of Support, IE Digital