Charity, Other, IE News
New Senior Digital Consultant joins IE team
Carl Timms joins the IE team this month, bringing with him over 15 years of digital experience in the arts and culture sector.
---
---
I'm delighted to share news of IE's latest new hire, Carl Timms. Carl is a senior consultant with over fifteen years of experience, leading digital projects for numerous arts and culture clients.
It's always been an ambition of mine to extend IE's industry-leading work in charity, health and education into the arts and culture sector. Hiring Carl gives us the specific, high level, arts and culture consultancy expertise we need to do just that.
About Carl Timms, Senior Digital Consultant
Carl was previously Head of Production for The Space – the BBC/Arts Council England's digital commissioning fund – where he oversaw a slate of multimedia projects including two award-winning digital ventures into VR and digital storytelling.
Before that he spent nine years at Made Media, the international arts and culture digital media specialist. While there, Carl helped to deliver complex digital web solutions for some of the world's most highly regarded arts and media organisations, including the National Theatre, Lincoln Centre For The Performing Arts, Southbank Centre, Glyndebourne and Channel 4, delivering work across four continents.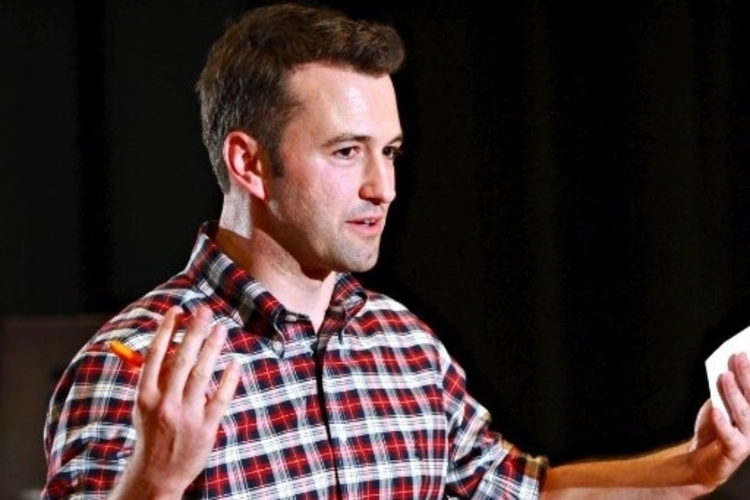 Carl is an experienced client account manager and digital project manager, who prides himself on building strong relationships with clients through quality delivery and the ability to express complex digital requirements in plain English. He's adept at finding the most achievable routes to deliver on a client's digital needs, timescale or budget. And he's level-headed and good humoured under pressure too, telling us there's nothing like the prospect of 10,000 angry Kylie Minogue fans to keep you focused in an on-sale situation!
Carl has a BA in Film Studies, and he's a serious movie buff. He previously ran a corporate video company, has produced a WW2 documentary and directed an award-winning zombie short. He currently sits on the board of The Producers' Forum – an organisation dedicated to connecting, training and lobbying for the region's filmmakers – and runs the 2Weeks2Make It Midlands music video competition, which pairs local music artists with film talent to produce original music videos in just two weeks.
IE Digital in the arts and culture sector
Personally, I'm a huge fan of the arts. Here at our studio in the heart of Birmingham's Jewellery Quarter, we can boast of some of the industry's best. A team of 20 digital consultants, UX/UI designers, Drupal web developers, brand consultants, creatives, brand designers and project managers – all under one roof. And our creativity doesn't stop when we leave the office – within the team we have a bunch of keen musicians, dancers, artists, writers, sculptors, film makers and crafters.
As well as being an outstanding digital consultant, Carl is a lovely chap to boot. I'm looking forward to seeing what he brings to the team and introducing him to existing and new clients in due course. I'll leave the final word to him:
"I was struck by the culture here at IE, and the genuinely talented people who believe in working hard to make a real difference, while having fun along the way. While I'm obviously excited about the opportunity to work with an impressive list of not-for-profit, values-driven clients in charity, health and education, I'm equally looking forward to bringing the exceptional creative of the IE team to a whole new set of arts clients."  – Carl Timms, Senior Digital Consultant, IE Digital
I'm looking forward to bringing the exceptional creative of the IE team to a whole new set of arts clients.

Carl Timms
Senior Digital Consultant, IE Digital