Services
User Experience
Fundraising website
Donorfy CRM & JustGiving integration
Social media strategy
Search engine optimisation
Brand & Visual Identity
Industry
Charity
Health charities
Health
Other healthcare
Bowel Research UK required a new website to support its launch, following the merger of two charities. The newly merged charity is ambitious to raise its public profile, to improve and ultimately save people's lives.
BRUK funds research into bowel cancer and bowel diseases. Their aim is to raise the profile of these conditions, attract more donations, and fund more scientific research into cutting-edge treatments. Fundraising is therefore front-and-centre on the new website.
IE Digital created the new charity brand and brought it to life with a WordPress website based around specific user journeys. We integrated with Donorfy CRM and JustGiving to facilitate donations and pull in content from individual fundraising appeals.
Visit IE Digital's new Bowel Research UK website.
Bowel Research UK was formed from the merger of two bowel research charities – Bowel Disease Research Foundation (BDRF) and Bowel & Cancer Research (B&CR). With that came a new name and the need for a new website, bringing the best from each of the founding organisations.
The merger was the first step to becoming more prominent in the eyes of the public and media, with the goal of driving up donations and fundraising support, and ultimately funding more scientific research and saving more lives.
Stakeholder interviews and survey
In tandem with research into the merged charity brand, we spoke to key stakeholders about the two existing charity websites (shown here), and their priorities for the new one.
Working with stakeholders, IE Digital defined the audiences for the new website. The two primary audiences, around whose needs the site has been designed, are 'funders and supporters', and 'researchers and healthcare professionals'.
Our three secondary audiences are people that will visit the website. These include 'strategic partners and other charities', 'policymakers, influencers and the media', and the wider public.
Content needs and online giving preferences
We interviewed people from each key audience about the types of content they'd expect to see on the charity's website, as well as specific questions around their attitudes to making charity donations online.
For research scientists, they need to see clear information on the eligibility criteria and application process for charity grants, and access to reporting tools. People with first-hand experience of bowel cancer and bowel diseases (patients past and present) are generally looking for information on how to engage with the charity and support through donations, fundraising etc.
75% of our esurvey respondents said they are comfortable making charitable donations online, and we ranked their preferences for different giving platforms. The responses showed that while many people preferred to give directly through a charity's own website, JustGiving is very widely recognised and trusted as a donation platform.
Image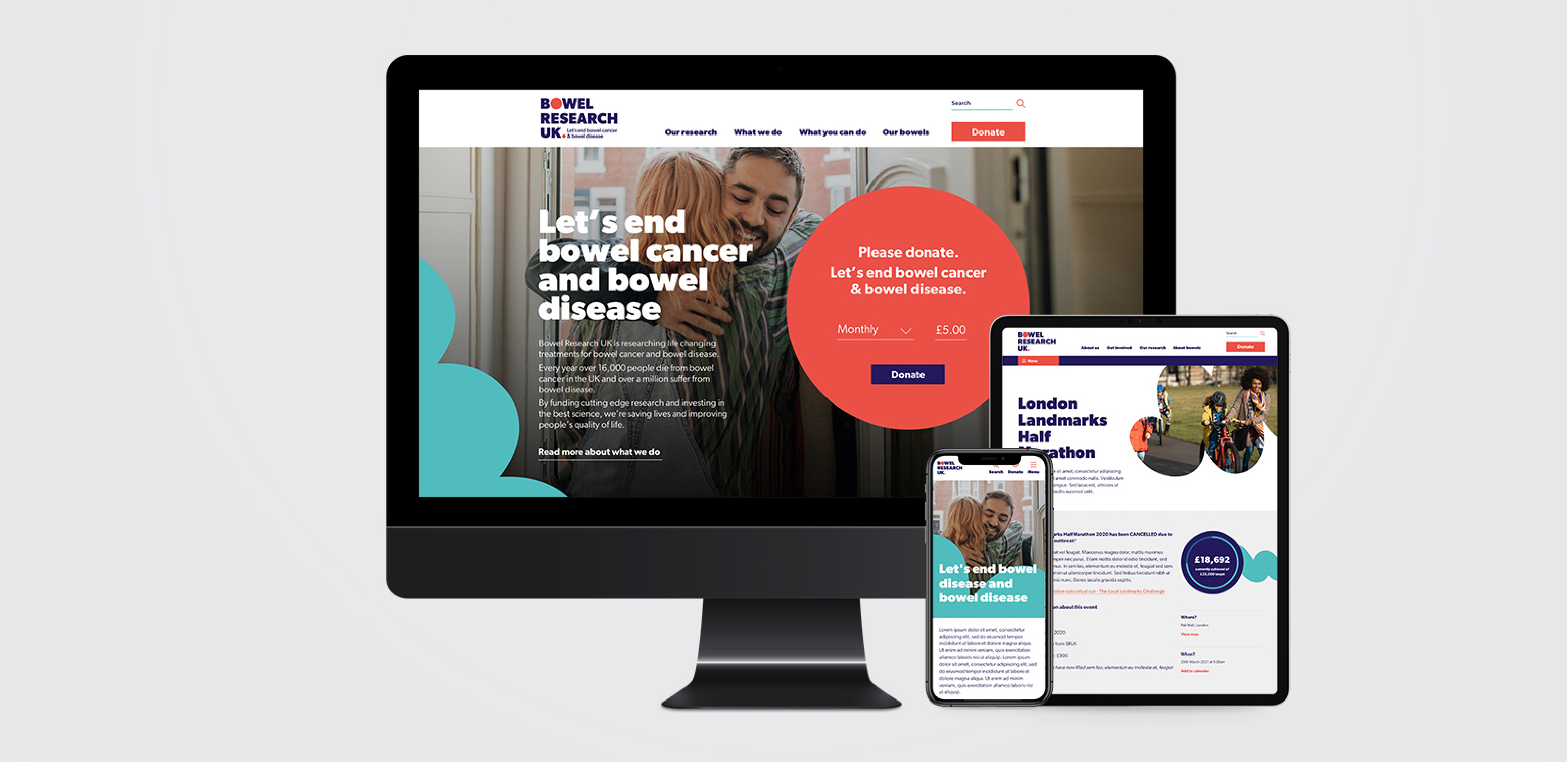 "IE Brand has helped us to navigate the landscape of rebranding our charity. What has impressed me most is the continuity of care. From the bidding process to the reality of working with IE, there is absolutely no difference – IE make us feel like we are their top priority client. They are clearly very knowledgeable and skillful, and this comes through at every stage. They are undoubtedly bringing out the best in our charity and involving us at every step. They have helped us to negotiate some challenging internal conversations, providing support and options at every turn."
Kathryn Pretzel-Shiels - Board Member & Chair of Fundraising & Communications Committee, Bowel Research UK
Image
Image
Advise
Information architecture and user experience
We designed the information architecture for the site using a library metaphor - using books, chapters and pages to define the content structure.

The main navigation is built around the four 'books': About us, Get involved, Our research and About Bowels, to structure content logically and intuitively.
UX outputs for content writing
While designing the user experience, IE mapped out five key user journeys in detail:
A bowel cancer survivor interested in becoming an active supporter
A person who has recently lost a colleague to bowel cancer, looking for ways their company can support Bowel Research UK
A young researcher seeking advice and potential funding opportunities
A member of the public, planning a fundraiser related to Inflammatory Bowel Disease (IBD)
A journalist looking for someone to contribute to a breaking news story on Crohn's Disease.
We described the situations that might bring users to the website, their thoughts, the tasks they are looking to complete, and the content that will best meet their needs. This was used as a guide for the charity's comms team in developing content for the site, whether through text or video.
This also led to the development of an interactive "How could I support Bowel Research UK?" tool, that asks a few simple questions and presents the user with the best ways to get involved.
We poured all this thinking and user journey planning into a set of low fidelity page mock-ups, before handing over to our digital designers.
Image
"From start to finish working with IE Brand was a constructive and positive experience. They challenged us and at times, I suspect, we challenged them! The result was that they delivered an excellent new brand for us, Bowel Research UK, together with a new website and various ancillary items, all of which we are delighted with."
Paul Reynolds - Co-Chair, Bowel Research UK
Image

Deliver
Fundraising and donation platforms
Defining fundraising and donation platforms
Before drawing up plans for the new fundraising and donation experience, IE Digital spoke to Bowel Research UK's finance and operations team to understand their existing systems.
The decision then centred around what would deliver the desired user experience and essential functionality Bowel Research UK needed. We explored the options available and recommended a combination of JustGiving – a single, secure gateway to payments using Stripe and GoCardless – integrated with the CRM system Donorfy to manage the charity's supporter data and communications.
User-generated fundraising content
JustGiving supports one-off and regular donations, as well as allowing fundraisers to create their own pages and profiles. Our developers harnessed APIs from Donorfy and JustGiving, to pull user-generated fundraising content through to the new WordPress website.
This content is refreshed daily and presented beautifully on the website - with animated badges showing each fundraiser's progress against their target, an 'add to calendar' function for event dates, and individual donation buttons.
The combination of JustGiving and the new website increases visibility for the charity, by providing two access points – one for supporters that know Bowel Research UK, and another for fundraisers and donors on JustGiving who are looking for a cause to support. It also spares fundraisers from duplicating effort, as there's no need to create two separate profiles.
Digital design
Having already created the new visual identity for Bowel Research UK, our design team storyboarded the new website to bring together the charity's new brand and the carefully crafted user experience.
The site's design is centred around the charity's vibrant new colour palette, bold 'colon' graphic and lifestyle photography showing real people enjoying life, not just in clinical settings. Our front end developers brought these designs to life with subtle animations and slick transitions for a warmer, more approachable website.
Content creation
Having built the main structure for the website, our digital development team created a set of fully editable page templates in WordPress. We trained the Bowel Research UK team – remotely via video conferencing, under Covid-19 lockdown conditions – to create new pages from a variety of predefined components and styles. The comms team were then able to populate the CMS with new content as per the agreed information architecture.
Testing and launch
The new website was deployed to IE's Pantheon hosting environment a couple of weeks before the official brand launch, allowing for a period of acceptance testing and issue resolution. The site rolled out publicly to coincide with the official launch of the merged charity's new name, logo and brand.
Image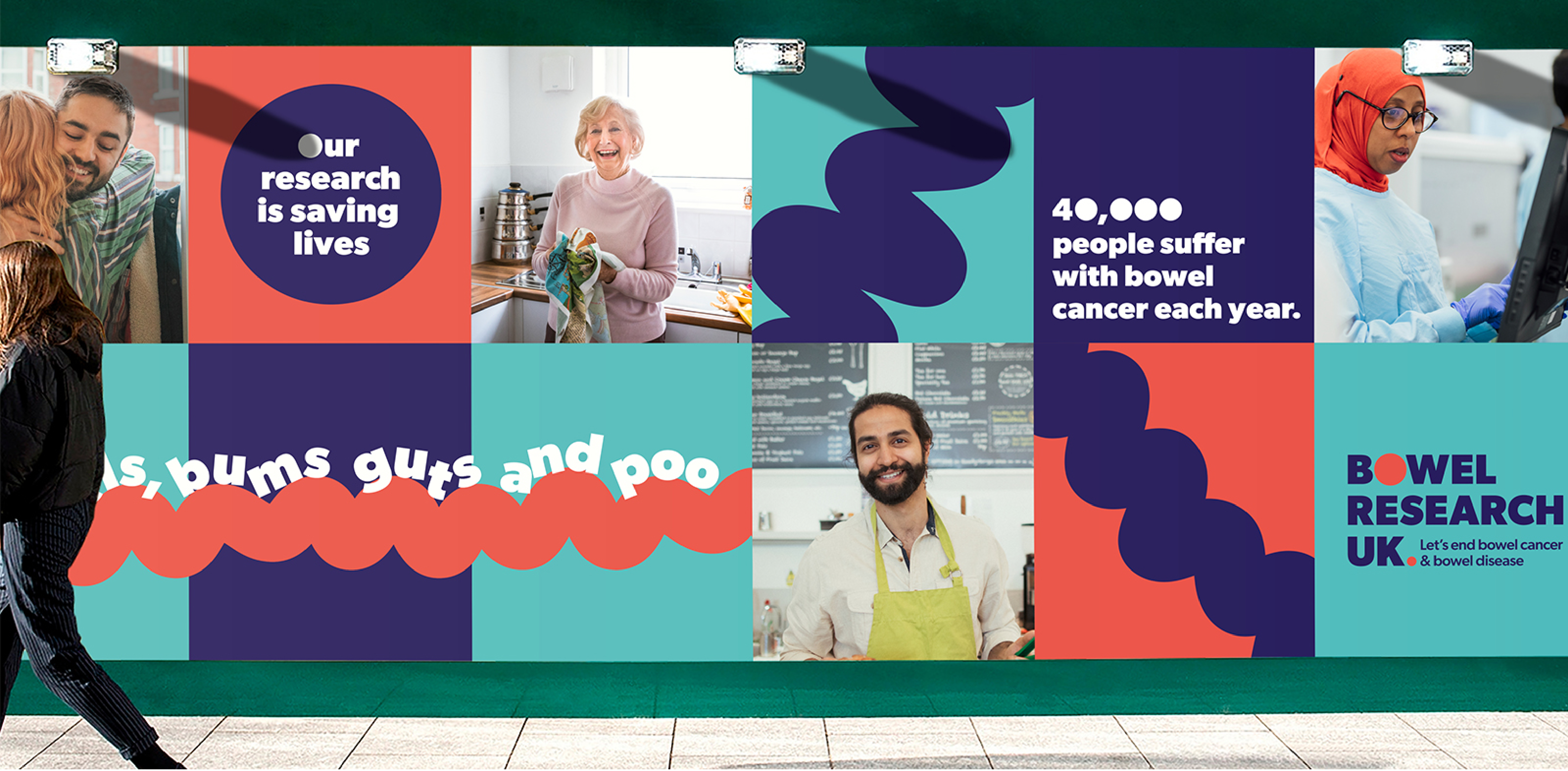 Support
Social media and SEO strategy
It was important for the new website to build upon the combined online traffic and engagement for B&CR and BDRF.
IE Digital reviewed analytics for both sites and all social media platforms, to provide advice and guidance for the 'new world' of Bowel Research UK.
The new Social Media and SEO Strategy covers keyword targeting, search engine optimisation, general content writing, and the use of different social media to build awareness and support for the charity, and drive traffic to the new website.
Ongoing development and support
Following the successful launch of the new brand and website, Bowel Research UK and IE Digital have begun discussions about phase 2 of the website - exciting developments that will enrich the fundraising functionality and deepen the site's integration with Bowel Research UK's Donorfy CRM.
2,355,000 impressions for Twitter hashtag #BRUK during the first week of launch
40+ British MPs supported the launch – top three hashtags amongst MPs on launch day were #BRUK #BowelCancer and #BowelDisease
101 million opportunities to see news of the brand in the media, including Daily Telegraph